In this second installment of the New Release Spotlight, I am pleased to recommend the new disc from Canadian classical guitarist Emma Rush, Canadiana. From Emma's website, "Canadiana features the music of iconic Canadian songwriters Joni Mitchell, Gordon Lightfoot, and Stan Rogers arranged for solo guitar by Floyd Turner, and Appalachian Colours, dedicated to Emma Rush, by Toronto-based composer William Beauvais."

I met Emma at the 2015 Lone Star Guitar Festival and Competition in Weatherford, Texas. I really enjoyed her program, which featured quite a bit of music inspired by folk stories from around the world. I remember being really taken away with Garuda and the Suite del Recuerdo during her performance. I picked up a copy of her album Folklorica, and it's been on heavy rotation in my daily listening ever since. We've kept in touch, and I'm honored to call her one of my friends. She is not only a refined and expressive player, but she's also a great teacher and an inspiration to my own teaching and playing. 

I was talking with Emma a few months ago about our mutual love of the work of the Canadian singer-songwriter Gordon Lightfoot, and she mentioned that her next project would include a few Lightfoot tunes arranged for solo guitar by Floyd Turner. I was so excited to find a copy in my mailbox yesterday, I rushed into the house and immediately put it on the stereo. I'll admit I broke my own listening rule (first listenings are SUPPOSED to be 'cover to cover'), but in my defense "Pussywillows, Cat-tails" and "Canadian Railroad Trilogy" are two of my favorite songs by Gord. The arrangements are nothing short of wonderful. In fact, I enjoy Emma's playing of Canadian Railroad Trilogy more than the original-- I wish that that quality of rubato and sensitivity to the text was present in Gord's version. 

There is a big difference between a straight transcription and an arrangement-- an arrangement implies a level of invention that approaches the song as a composer might. While a strict transcription might be more faithful to the source material harmonically speaking, a great arrangement utilizes the strengths of the instrument to create a new experience, and we see the piece from a new perspective. Mr. Turner's arrangements on the disc do this very well. I'm not as familiar with Joni Mitchell as I am with Gordon Lightfoot, but I really enjoyed "Blue" and "Marcie". Stan Rogers is a brand new name for me, so I had never heard "Northwest Passage" before this disc.
Another new name for me was William Beauvais, whose "Appalachian Colours" suite is dedicated to Emma. The piece is cinematic, and its titles alternately evoke for me the changing leaves of autumn, an early summer drive I once took through Acadia National Park in Maine, and my first sight of Lake Michigan after climbing the dunes at Saugatuck. Green is probably my favorite movement from the suite, though it's a tough call. **Edit: Wait, no, it's Red.

The whole album has a great feel for those long, introspective summer night drives, and I'm really looking forward to taking it on the road with me to Victoria next month!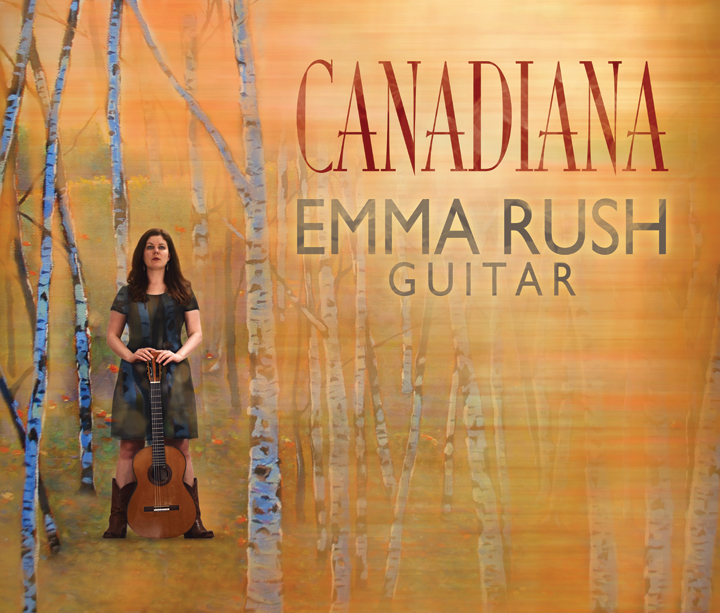 I'd also like to take a moment to comment on the artwork-- if you've been following this blog, you'll know that one of my biggest pet peeves in the classical music world is the ubiquity of lazy artwork and boring album titles like "Guitar Recital" (not to worry, Naxos; we still love you). In the last "New Release Spotlight" I said I hoped to see more classical artists bringing the same mindfulness and attention to detail to their album art that they bring to the music, and I listed off a bunch of non-classical albums that have what I would consider to be great cover artwork. Had I not been limiting myself to non-classical musicians, I would have cited Emma's Folklorica as the exception to prove the rule and a great example of how artwork can elevate the listener's experience of an album. I don't have my copy of Folklorica within reaching distance to double check, but I believe Richard Talbot is responsible for the artwork on both albums. I really enjoy the unity of his design-- on the inside of the sleeve we are given some liner notes over a background composed of an almost abstract closeup of the bark of a Paper Birch (the same species of tree featured on the front cover), and the disc itself bears a cross section of a log showing the growth rings. 
You can get your copy at Emma's website for $20. Stop by, snap up a copy for yourself, and listen to the pictures flow-- across the room, into your mind they go.