​I first saw and heard a lute in person at an intimate concert at the University of Texas at Dallas in 2007, if I recall correctly. I had just begun studying classical guitar, and my professor had given me some renaissance music to learn. I was excited by these pieces because they were full of magic: they clearly sound ancient, but the music is so inventive and at times chromatic that it still carries with it a profound sense of newness. When I came back for my next lesson, already bitten by the early music bug, my professor gave me a free ticket to Hopkinson Smith's concert and told me that he was the very best "do-not-miss" lutenist in the world. She was right. It was absolutely amazing, and drove my interest in early music even further. She loaned me a boxed set of Paul O'Dette's complete John Dowland, and I was hooked. However, I continued happily playing these pieces on my guitar until I began to study the works of Weiss and the Bach "Lute Suites". I had always looked to the lutenists and the history in order to help me arrive at my interpretation of a piece on the guitar, so I looked at the original manuscripts bearing Bach's own signature and several well regarded guitar transcriptions side by side. I couldn't help but feel that many if not all of the pieces had been bruised severely in being forced onto the guitar. I began to feel that if I wanted to hear these pieces as I would like to hear them, the only option was to try my hands at playing the music on historical instruments using historical techniques. 
With that said, some of my favorite music is very modern, and clearly requires a guitar. I have not lost any love for the guitar, but have come to the opinion that the best instrument on which to play the lute repertoire is, in fact, the lute. 
Since I began including the
renaissance lute
in my performances this past October, it has not been uncommon for me to encounter people who have never heard or even seen a lute before. In fact, at most events I am approached by at least a dozen people, each with a small list of questions. Musicians often have questions of a more specific nature. It's something I enjoy almost as much as I enjoy the musicmaking itself. This post will address some of the most commonly asked questions regarding my lute, hopefully without getting too terribly technical. 
The lute is not a single instrument, but is rather a large family of instruments descended from the middle eastern Oud. Lutes became intensely popular in Europe from about the 15th century to the 18th century. At some points, nearly every household was in possession of at least one lute. Since the guitar as we know it is a fairly modern invention and an evolution of lute-family instruments, much of the standard classical guitar repertoire from the 15th to nearly the 19th century comes to us from the lute or other lute-like instruments. Unfortunately, not all lute music is playable on all lutes, or on guitars for that matter. As a result, much of this wonderful repertoire is yet unheard by modern ears. Although there are many different kinds of lutes, there are some common features: a teardrop or almond shaped top, a bowl-shaped back made of several staves of wood, a wide and sometimes slightly curved fretboard, friction pegs, pairs (courses) of strings, movable frets, and finally the intricately carved rose that served not only as a soundhole, but as a mark of the maker's mastery. 
I will not attempt to present all of the various members of the lute family, as they are far too numerous and since there are a great many lute-family instruments that we still do not know much about. The simplest way to think of the lute family is in 3 main periods of evolution: medieval, renaissance, and baroque. Within these periods there was a reasonable amount of variation, but that is for another time.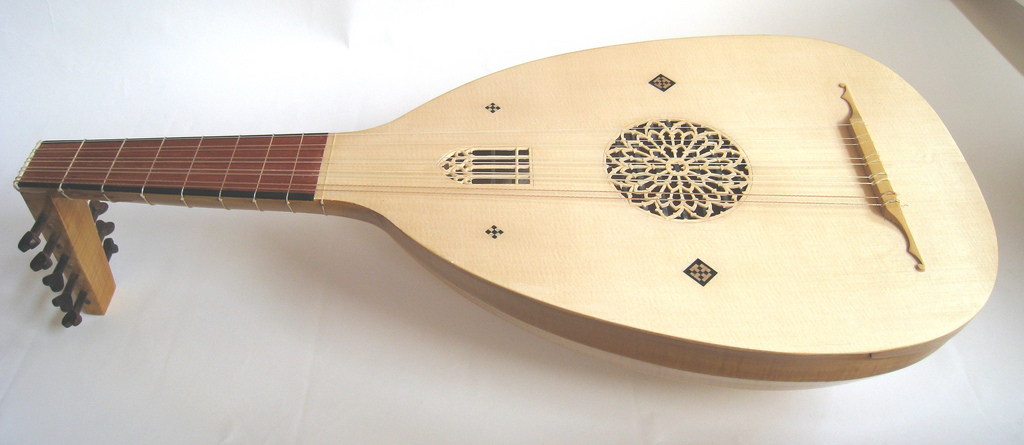 In the Medieval period, the lute usually had 4 or 5 courses of strings, and was played with a pick made of a quill in much the same way that the majority of acoustic guitarists play today; the lute was used to accompany the voice or a melody instrument like the recorder with strummed chords. Later, some "clever German players" realized that by dropping the pick and playing with the fingertips, much more complex music was possible.  
In the Renaissance, the lute picked up a course of strings, bringing the total to 6 courses. Although the renaissance lute was usually tuned in G, we will use an hypothetical lute in E for the guitarist's convenience. The Renaissance 6-course lute would have been tuned (low to high) E A D F# B E, which is identical to the modern guitar save that the third string must be tuned down by one half-step. Toward the end of the Renaissance, bass courses were added one at a time in order to extend the low end of the instrument. After nearly 200 years of the lute having 6-courses, 7-, 8-, 9-, and 10-course instruments popped up within a relatively quick succession.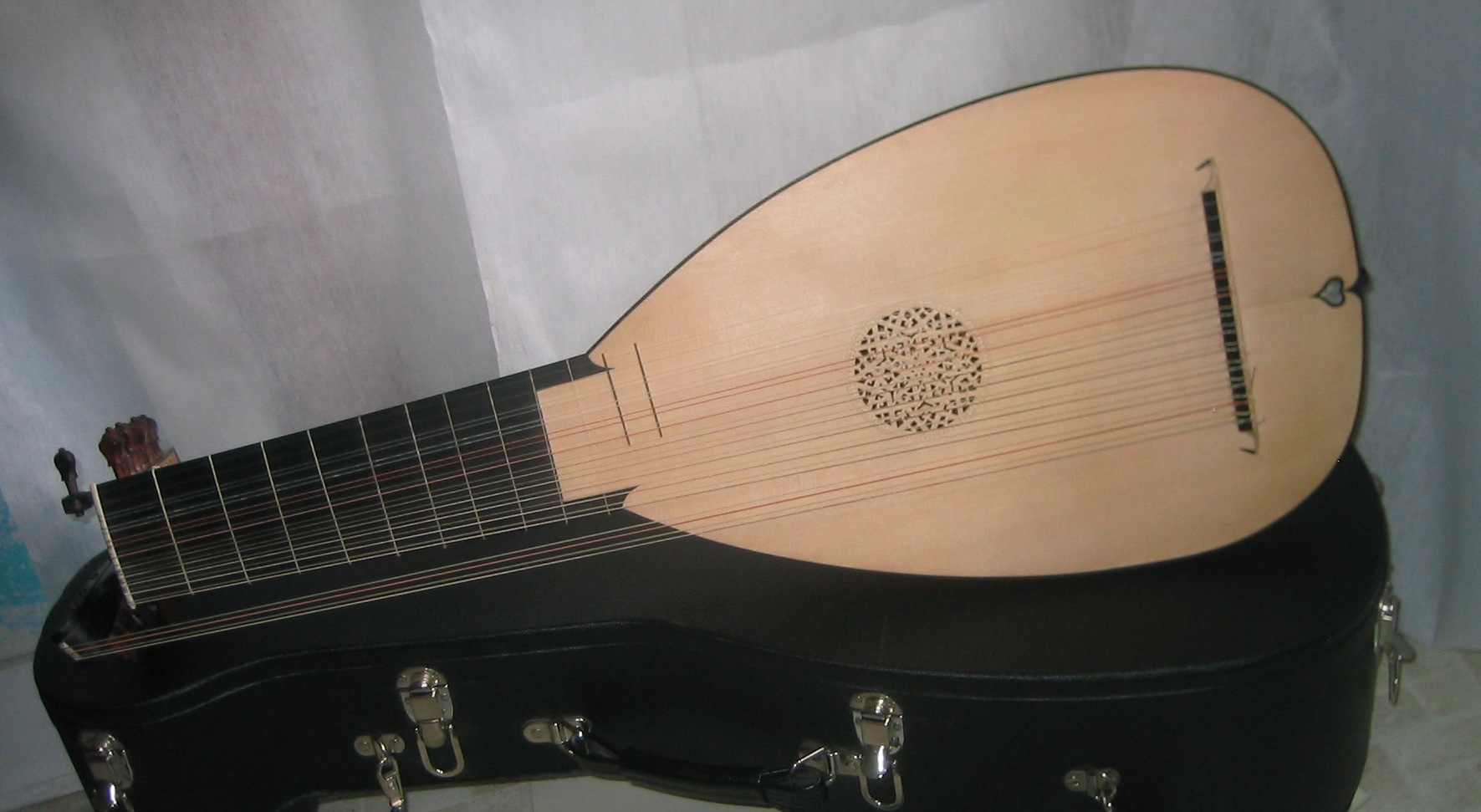 In the Baroque, the lute's tuning changed radically, and more courses were added again, usually simply by building onto old renaissance instruments that were designed as 6-10 course lutes. Baroque lutes are commonly 11- and 13-course instruments. These are the lutes that would have been contemporary in Bach's time, and indeed his friend
Sylvius Leopold Weiss
would have played on both. The first six courses were tuned to a D minor chord, and the bass courses were tuned to the scale of the piece to be performed. A 13-course baroque lute would be tuned (low to high) A B C D E F G A D F A D F. This tuning is NOT like the modern guitar at all, although the tuning of 
Koyunbaba by Carlo Domeniconi
bears a striking resemblance to the first 6 courses of the Baroque lute. 
The renaissance lute will be featured alongside the guitar on my upcoming CD, 
Prima Materia.
*all photos by Mel Wong at 
www.blackbirdstringarts.com
*