JACOB A. JOHNSON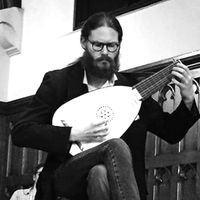 EDUCATION
Began studying Piano in 1990
Began studying Trumpet in 1993
Began studying Guitar in 1998
Studied with Trumpet with Bert Truax 2003-2004
Attended UNT for Trumpet Performance from 2005-2006 (Studied with Marc Reed)
Studied Guitar with Sabine Madriguera at Collin College 2007-2009, 2010-2012
Studied Guitar with Dr. Fernand Vera at Collin College 2012

Studied Guitar privately with Dr. Enric Madriguera, 2012-present.

Began studying Historically Informed Performance of Early Music, with a focus on Lute performance in 2014
Classical Guitar Degree in Progress
Masterclasses with: Susana Prieto, Xuefei Yang, Thibault Cauvin, Valerie Hartzell, Lynn McGrath, Olga Amelkina-Vera, Gustavo Costa, Steve Gottlieb, Francisco Cuenca, Karoline Laier, Joaquin Clerch, Adam Holzman, Enrique Munoz, Jonathan Dotson, Isaac Bustos, Joe Williams II, Alejandro Montiel, Hopkinson Smith, Fabio Montomoli, Chad Ibison, Stephen Lochbaum, Jorge Caballero, Jérémy Jouve, Celino and Lito Romero, Michael Craddock, Jakob Lindberg, Ronn McFarlane, Paul O'Dette, Robert Barto, and Sylvain Bergeron.

PERFORMANCE EXPERIENCE
GDYO Wind Symphony, 2003-4 concert season

Trumpet Soloist, "Concerto for Trumpet" by A. Arutiunian, as winner of 2004 GDYO Concerto Competition with GDYO Wind Symphony
Lansing Concert Band, 2004 concert season
UNT Concert Band, 2005-6 concert season
Collin College One O'Clock Guitar Ensemble 2007-2012
Young Artist Showcase, Collin College 2012

Solo Guitar Recital 2014 @ FUMC The Colony

Guitar Soloist, "Rejoice" concert program, with the Millennial Choirs and Orchestras Dec. 2015

Guitar Soloist, "Winter Festivals - Celebrating our diversity" concert program, with the Mesquite Symphony Orchestra Dec. 2015

Solo Lute Recitals 2016:

@ Collin College
@ Richland College
@ Aubrey FUMC
@ Greenland Hills UMC

Solo Lute Recitals 2017: 
@ Tarrant County College
@ FUMC The Colony
@ Richland College

Lute Soloist-- International Tour 2017: Performed independently organized concerts in Buena Vista, Salida, and Denver, CO as well as for the Utah Guitar Society, the Sacramento Guitar Society, and the Lute Society of America.

On-Air performance/interview 2018 @ High Plains Public Radio

Featured Performer at 2021 and 2022 Deep Ellum Art Festival
 
Rock/Pop/Blues/Praise/Heavy Metal performance experience in several bands

10 years of Wedding/Event performance experience

Ongoing Solo Recital experience. Sample programs will be furnished upon request.

Ongoing Recording experience in capacities of talent, engineer, and producer. Sample recordings will be furnished upon request.

TEACHING EXPERIENCE
Mr. Johnson has been teaching guitar privately since 2006, and has taught a wide range of styles to students aged 6-80.

PUBLICATIONS
The Celestial Monochord, published 2011 Dallas AASR Newsletter
Funeral Music for Queen Mary, arr. for Guitar Quartet by Jacob Johnson, Seconda Prattica
HONORS AND AWARDS
Attained the rank of Eagle Scout in BSA, 2003
GDYO Wind Symphony Concerto Competition Winner, 2004
Past Master Councilor, Order of DeMolay, 2006
Invested a Chevalier of the Order of DeMolay, 2009
Collin Guitar Competition, Honorable Mention, 2011
Collin Guitar Competition, 2nd Place Winner, 2012

Lee Ritenour Six String Theory Competition Finalist, 2014

UTD Texas Guitar Festival and Competition Semifinalist, 2014 - 2016

Mountain View College Guitar Festival and Competition, Professional Division, 2nd Place, 2015

Winner of the 9th Annual Collin College Guitar Competition, 2015

Gigmaster's "Best Of" Award, 2015-2016

Lute Society of America Scholarship Recipient 2017

Greater Denton Arts Council Artist Microgrant Recipient, 2022

FWB Denton Arts Grant Recipient, 2022


References available by request.