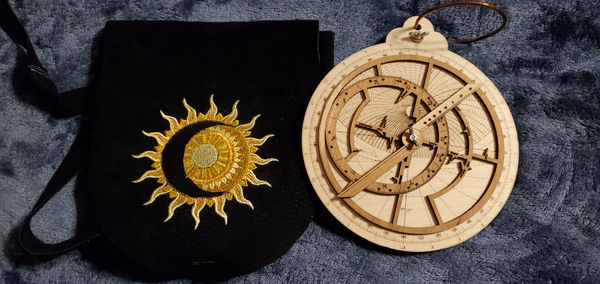 As a child, I asked Santa Claus for a telescope a few years before I asked for my first bicycle. Growing up I owned several little telescopes which were great for looking at the Moon, but not very ideal for much else. Last September, I bought my first big boy telescope: a 10 inch f/4.5 Dobsonian. Don't let the designation of 10 inches fool you-- that's the diameter of the mirror; the telescope stands about 4 feet tall. Since getting that scope, I found my love for astronomy renewed. Seeing galaxies, star clusters, and nebulae with your own eyes for the first time will do that! So, I joined the Texas Astronomical Society and started taking my observations more seriously, keeping detailed notes and making sketches of each new object I pointed my scope at.

But what I had always really wanted was an astrolabe. I remember reading about them when I was in elementary school, and being amazed that there was a computer that could tell time and predict the times of sunrise and sunset for any day of the year without a need for any kind of power. It almost seemed like a magical device, especially since the very first computer I ever owned was a hand-me-down IBM personal computer with an Intel 8088 CPU. It was anything but portable, and all I really knew about it was how to give the DOS command to play "Where in the World is Carmen Sandiego?" The concept of a computer that one could easily carry around with them was still the stuff of science fiction in my little 5-year-old mind. 

Several years later, I was attending Scarborough Renaissance Festival in Waxahachie, TX when I discovered that a vendor carried brass astrolabes! I'd never actually seen one in person, so I asked the salesman to give me a demonstration. He proceeded to tell the time using the sun, and gave me a prediction for the time of sunset that day. I was blown away by just how impressive and beautiful the little device in front of me was, but at the time I couldn't justify the asking price. Still, it planted the seed and I kept thinking, "One of these days I'm going to buy one of those brass astrolabes," for the next several years.

One day earlier this spring I was aimlessly surfing the web during a practice break and found a website selling similar brass astrolabes, but the price was even higher than I remembered, so I started researching a little more seriously to try to find a cheaper (yet still functional) instrument. In the process, I discovered the Astrolabe Project website, which includes tutorials on the use of the astrolabe as well as a free astrolabe generator program which allows one to easily design a customized instrument. I also found an Instructable on how to build it. At this point, I decided I had to go for it. I got a subscription to Adobe Illustrator and started working on the design I had created in the generator. Eventually, I sent the files to a laser cutting service to finish the project. Under normal circumstances I would have taken the files to my local makerspace and done the cutting/engraving myself, but with COVID-19 shelter-in-place orders those options were not available.

After about a month of designing and editing the plans, I finally received my astrolabe. It has all of the usual scales, plus a few specialty scales I thought it would be nice to have. Most of these scales are historically accurate, but since we now have an accurate equation of time, I included a scale for that. The result is an instrument that can tell the time to within a minute or so of clock time. On the day it arrived, I fell in love with using it and set about learning everything I could about its capabilities.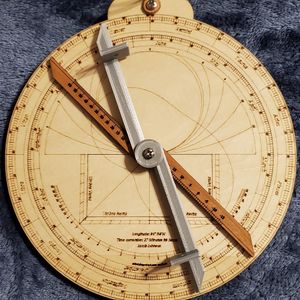 As it turns out, membership in the Texas Astronomical Society comes with a membership in the Astronomical League. The AL has over 50 observing programs and certificates to help give structure to one's observations, and it occurred to me that there might be a program that included the use of an astrolabe. I was right, and so I began working on the Astronomy Before the Telescope Observing Certificate. The certification requires some fairly intense effort as the observer is limited to using instruments that were available in the 16th century-- but that is right up my alley, and smack dab in the middle of my favorite period of lute music!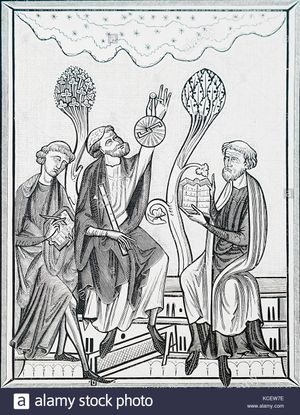 So that's how I got involved with all of the astronomical activities I have lately undertaken. I'm not limiting myself to just the Astronomy Before the Telescope program, but it is, without question, the most challenging of the programs I've decided to pursue. As I work my way through the requirements of the certification I will continue to share updates on my progress.