One of my lutenist friends, Ryan Closs, recently suggested an interesting project. We're both homebrewers, and the plan is to brew a historical beer recipe and learn some music from the same period. We will be using a recipe that was written down sometime between 1679 and 1689 by the Carmelite monks at Dendermonde, and we'll be learning some music for the lute by Hieronymus Kapsberger. Once the beers are finished, we'll all be trying them. It's been a while since I had a chance to focus on some lute music, so I'm really looking forward to it!

As for the beer, the recipe isn't terribly different from a modern Tripel. The original recipe translates to:
Instruction to brew 16 barrels of good beer 

12 vats of wheat at 24 stuivers per vat, that is                                      14.8 guilders 
36 vats of barley at 20 stuivers per vat, that is                                      36 guilders 
6 vats of spelt or 'vorte avere' [rotten oats?] at 18 stuivers, that is    5.8 guilders 
40 pounds of  hops at 3 stuivers a pound, that is                                 7.10 guilders 
5 'waeghen' of coal at 30 stuivers a 'wage', that is                                7.10 guilders 
50 pieces of wood at 6 guilders per 100, that is                                    3 guilders 
for wear and tear and brewer's work                                                      8 guilders 
                                                                                                                       80.6 guilders

For the most part, I'm following the advice given on Lost Beers, but I made a few small changes to the recipe.

 
Goedt Bier (by the Carmelites of Dendermonde)
5.5 gallons/20.8L

8.8% ABV : OG: 1.091 : FG: 1.023 : 35.16 IBU : 7.57 SRM
(Actual OG: 1.087)
Fermentables:

12 lb. (5.4 kg) Muntons Maris Otter (63.2%)
4 lb. (1.81 kg) Rahr White Wheat (21.1%)
2 lb. (0.9 kg) Best Malz Spelt Malt (10.5%)
1 lb. (0.45 kg) Briess Cherrywood Smoked Malt


Hops:

3.5 oz. (98g) Hallertau Mittelfrüh (60 minutes)
1 oz. (28g) Hallertau Mittelfrüh (10 minutes)
Yeast:

2x Wyeast WY1214
2x Omega OYL-071 Lutra Kveik

Brewday:

Reiterated Mash:
Mash A: Step Mash 7 lb. Maris Otter, 4 lb. Wheat, 2 lb. Spelt.
1. 104°F for 30 min
2. 135° F for 15 min
3. 152° F for 60 min
4. 170° F for 15 min Mash Out
5. Room temp Sparge

Mash B: Single Infusion Mash 5 lb. Maris Otter, 1 lb. Smoked Malt
1. 140° F for 30 min
2. 150° F for 60 min
3. 170° F for 15 min Mash Out
4. Hot Sparge

Water: 
Balanced Profile:

10 gal. RO water plus:
8g Calcium Sulfate
6g Calcium Chloride
3g Magnesium Sulfate
3g Sodium Chloride
I chose to replace a pound of my base malt with a pound of smoked malt because during the 17th century all malt was dried in wood- or straw-fired kilns. I chose the Cherrywood smoked malt because it sounded appealing and it was available at my homebrew store. Because of the limitations of my brewing equipment (BrewZilla 35L), I will be adding a pound of rice hulls to the grist because the wheat and spelt could be very sticky, and I will be splitting the mash in two in order to work around the maximum capacity of the BrewZilla. This is called a "reiterated mash" and it will add at least an hour to Brew Day, but I think it will be worth it in the end. I've chosen a balanced water profile because I think it will compliment the beer well, and because brewers have been adjusting their water since long before the 17th century. I'll also be using Irish moss during the last 15 minutes of the boil to help achieve a clearer beer. 

Fermentation will occur at approximately 72°F. I plan to leave the beer in the primary fermenter for a minimum of 3 weeks, so it will probably be going into the keg and bottles around Halloween. At 8.8% ABV, it will probably benefit from a little age so I will stick most of the bottles back for a few months. I expect to be able to taste the finished product around Christmas or the New Year. 

As for the music itself, I've been reading through the pieces in Libro Primo D'Intavolatvra di Lauto by Hieronymus Kapsberger, and I'll be focusing on a few of my favorites like the Corrente 12a on the last page of the book. I'm not used to reading Italian tablature, which is "upside down" compared to modern guitar tablature or French tablature, but after a few days of practice it's not so bad. My favorite thing about this book is the doodles between pieces!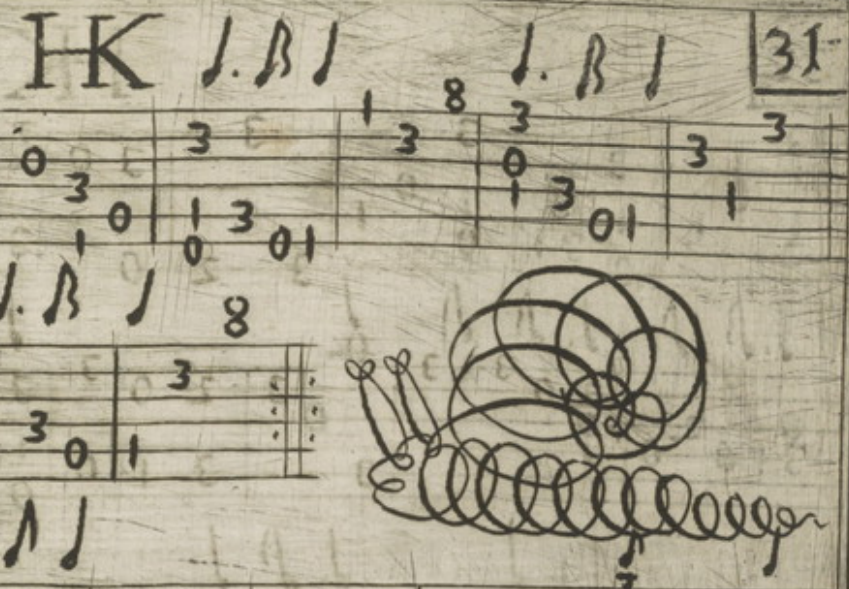 Snail!

Rabbit and Dog!

Fish!

I'll be posting some practice videos over the course of the project on Instagram and Facebook, so keep an eye out for updates!